NEW Billable Buddy V4 - The ORIGINAL time manager.
4
A super powerful chargeable time manager. Manage billable time the easy way ! As chosen by Hewlett Packard - World's #1 OEM.
NEW Billable Buddy V4 - The ORIGINAL time manager. Publisher's Description
About Billable Buddy Enterprise V4
Chosen by World #1 OEM Hewlett Packard.
Calculate and manage chargeable time with ease with Billable Buddy Enterprise V4. Whether you're a contractor, atorney, solicitor or just want to track where your day goes, Billable Buddy offers unparalleled simplicity, performance and features. Simply click a task to turn it on or off. All the task buttons are user definable as are the rates to charge and whether or not a task is billable. You can add as many tasks as you like.
Designed to enable you to be productive from the word go, Billable Buddy V4 is designed using the very latest Pocket PC technology. It is suitable for all Pocket PCs.
Features:
Unlimited tasks (limited only by your Pocket PC's available memory).
Up to eight sub tasks per main task.
Really easy to use.
Simple click to start / stop operation.
Billable and non Billable tasks catered for - simply enter the charge per hour rate for any sub task as required.
Multiple Day, Week and Month graphical views.
Reports, graphs and charts.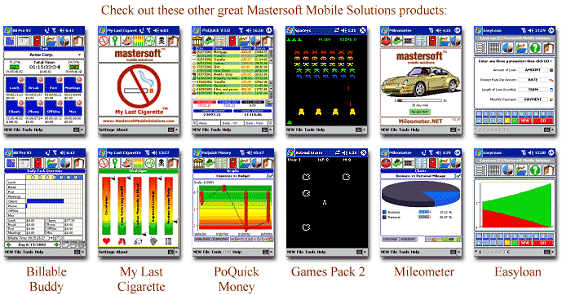 Look for Similar Items by Category
Feedback